What is Ptosis?
Ptosis is the nominal derivative of the Greek word "piptein" which means to fall.  The upper eyelid is elevated by the levator palpebrae superioris muscle and to a lesser extent, by Muller's muscle.  Thus, ptosis can occur when there is damage to either of these muscles or their innervation on one or both sides.  This condition can obscure vision and decrease the visual field as well as yield a tired, unbalanced look.  Furthermore, in response to the ptotic lid and decreased vision, the brain recruits the frontalis muscle in the forehead to lift the brow in order to see better.  This compensatory brow elevation then creates a peaked brow on the affected side(s) and horizontal stress lines in the forehead from constant use of the frontalis muscle.  It is important to note that patients with ptosis rely on proper functioning of the frontalis muscle to see better, and as such, undergoing Botox or Dysport injections to relax the forehead lines may result in exacerbation of the ptosis and poor visual field for many months.
Choosing the Right Surgeon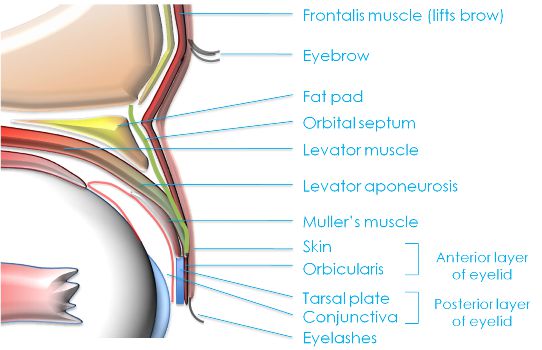 The eyelids possess an intricate network of blood vessels, nerves, tear ducts, and layers of muscles.  A thorough understanding and working knowledge of this complex anatomy is quintessential for any surgeon who performs eyelid procedures.  Moreover ptosis procedures demand attention to proper lid contouring, shape, and symmetry to ensure not just a functional result but an aesthetically pleasing one as well.
How to Repair Ptosis?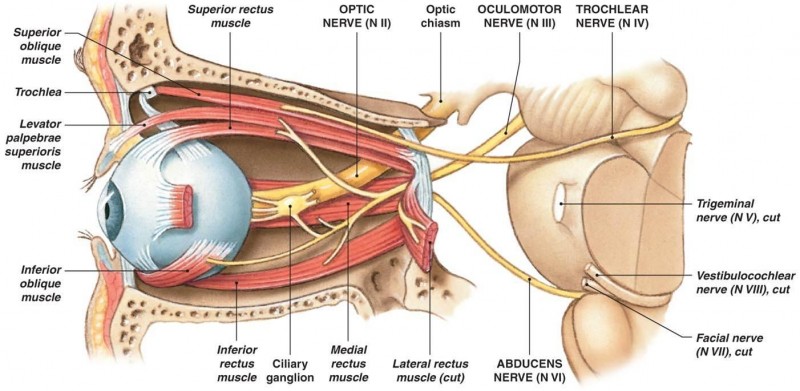 Ptosis repair can be achieved by strengthening either the levator muscle tendon (called levator aponeurosis advancement) or Muller's muscle (called Fasanella-Servat operation).  The former approach is usually performed by an external lid crease incision whereas the latter employs an internal, transconjunctival approach.  The decision about which method to use is predicated on the status of the levator muscle and the degree of ptosis.  For patients with a mild ptosis, Dr. Gupta opts for the internal procedure as it obviates any external scars and results tend to last for decades.
What to Expect:
The patient is relaxed with an oral sedative and then brought to the office laser suite, where an anesthetic injection is administered to numb either the outer or inner lid, depending on the approach.  The procedure takes about 30-45 minutes and is performed in a pain-free fashion with a laser so that there is no bleeding and minimal postoperative discomfort.  Shortly after completion, patients walk out of the office without patches or bandages.  With the internal approach, there is some swelling with minimal to no bruising and down time is a few days.  With the external approach, swelling/bruising may last about a week.  Results become appreciable at 1 week postoperative but will continue to improve for 3 months.
BEFORE/AFTER GALLERY: PTOSIS REPAIR
Patient #1 – please click on any image to enlarge, see details and slideshow
Patient #2 – please click on any image to enlarge, see details and slideshow
Patient #3 – please click on any image to enlarge, see details and slideshow
Patient #4 – please click on any image to enlarge, see details and slideshow
Patient #5 – please click on any image to enlarge, see details and slideshow
Patient #6 – please click on any image to enlarge, see details and slideshow
Patient #7 – please click on any image to enlarge, see details and slideshow
Patient #8 – please click on any image to enlarge, see details and slideshow
Patient #9 – please click on any image to enlarge, see details and slideshow
Patient #10 – please click on any image to enlarge, see details and slideshow
Patient #11 – please click on any image to enlarge, see details and slideshow
Patient #12 – please click on any image to enlarge, see details and slideshow
Patient #13 – please click on any image to enlarge, see details and slideshow
Patient #14 – please click on any image to enlarge, see details and slideshow
Patient #15 – please click on any image to enlarge, see details and slideshow