Adrienne's Dr. Gupta story
I was 57 years old when I first sought out some cosmetic rejuvenation. I felt I was beginning to look "my age" with my skin losing some of its luster and my facial contour showing signs of sagging.
Before I continue my story, I would like to say that I am an extremely active and physically fit female. I always enjoyed being a "pretty" person and I found that my ageing appearance was making me feel a bit self-conscious. It is also important that you understand that I am able to put my appearance into the right perspective. I believe that is OK to age but I also believe that we can age well and that means without looking like "cosmetic work has been done".
My first attempt at cosmetic rejuvenation was an almost disaster. A physician was referred to me by an acquaintance. This physician touted himself to be an expert.  However, his lack of skill almost ended with me being hospitalized. I developed a severe facial cellulitis from an injection of Botox that he unskillfully injected directly into a vein under my eye. Obviously this experience affected me and I actually steered clear of any further cosmetic rejuvenation for over a year.
I became aware of Dr. Lopa Gupta when I was visiting my hair salon in Manhattan. The staff at the salon, which happens to see many women who have undergone facial rejuvenation, knew of her fine work. They actually recommended her very highly as a few of the staff members had fillers and Botox done by her. I remember clearly that I thought they looked amazing, so I researched Dr Gupta's credentials and carefully examined the repertoire of her procedures. I then made a firm decision to visit her.
The rest is history … I was extremely comfortable from the moment I first met Dr. Gupta. She took the time to "see me" and she gave me an honest opinion of what would and would not work for me. She went slowly at first with small doses of Botox and fillers to see how I would react. Since that time, Dr. Gupta has moved in methodical stages so I would remain looking extremely natural. I have over the past 4 or 5 years undergone an upper and lower Blepharotomy with ptosis repair and countless rejuvenation procedures with fillers and Dysport. I will try what Dr. Gupta, and her very capable staff, recommends for me because I trust their expert opinion and their caring eyes.
My quality of aging has definitely improved under Dr. Gupta's capable hands … I am actually steering towards a mini face and neck lift in the very near future. At 61 years of age, I remain a loyal client and I continue to only trust Dr. Gupta to perform all cosmetic procedures for me.
Thank you all and hopefully I will see you in Dr. Gupta's beautiful office!
Adrienne's transformation over the past 5 years– Please click on any image to enlarge, see details and slideshow
CR's Dr. Gupta story
Where do I begin? I guess I'll start with this emotional roller coaster I had been on. When looking in the mirror only reflected too many yesterdays. A face I was coming to see as not familiar anymore. When did this happen?? My o My– what does one do?…. I must admit I felt a bit broken inside for a little while. Not knowing why that was. Maybe age, maybe a little of life's twists and turns. One never knows. I am a woman of middle age and by no means wanting to look ten years younger. We've all earned our years haven't we? If only I could recapture that spark, that glow again, just a bit longer.
Enter Dr Gupta!!!!! Of course this beautiful Dr had no idea that "Little Miss Broken" was before her. Well, well, a little laser for the lids and jawline. Low and behold! She did not disappoint!!!!! I'm not sure how. Is there magic in her hands, is there some power from up above that's guiding this gifted surgeon? I think not. It's just her. I also do not believe that just one thing can fix us all. I can tell you only what I know. It now seems that when I check a glimpse of myself in the mirror I can almost hear it whisper. " Ain't Life Grand" !! As far as her staff goes, Ann is a true asset to the Dr and her staff. I value all her sincere advice she has given me. Who can forget the adorable Emelia! All is well in the " House of Dr Gupta" !! I have learned to accept what is and be at peace with what remains……Dr… You are blessed. With a Heart filled with gratitude.
CR. Westchester.
CR's transformation over the past 5 years– Please click on any image to enlarge, see details and slideshow
JP's Dr. Gupta story
I have known Dr. Lopa Gupta for over 12 years and have the utmost confidence and respect for her as a physician and as a human being. My initial introduction to Dr. Gupta was through my Ophthalmologist who thought I would benefit from Dr. Gupta's expertise. From our first meeting, I was so impressed with her knowledge and experience and felt very safe in her care. Dr. Gupta has an incredible aesthetic sense and a great respect for her patients, treating each person as an individual, enhancing their natural beauty but never going overboard or making people appear "False". She listens to her patients and advises us with great care. When I began to show signs of aging around my eyes we talked about what subtle treatment she could offer me and I was very happy with the results. Later, I would avail myself of other treatments administered by Dr. Gupta, never once being concerned about her skill or her knowledge. The results I have had over the years with Dr. Gupta, have kept me looking healthy and have given me more confidence in all areas of life.
Dr. Gupta's staff are also worthy of praise. Ann & Amelia, and Lida are skilled, knowledgeable and extremely supportive of their patients and together with Dr. Gupta they make a great Team! The moment you enter the office you feel that compassion and concern for your wellbeing.
To sum it up, when you are in Dr. Gupta's care you are truly in great hands. As a medical professional, Dr. Gupta has that rare combination of vast medical knowledge and skill along with a generous and compassionate nature. She is a uniquely gifted Doctor and an extraordinary human being. We are all blessed to have her and her staff in our lives.
Sincerely,
J.P.
T.W. O'B's Dr. Gupta story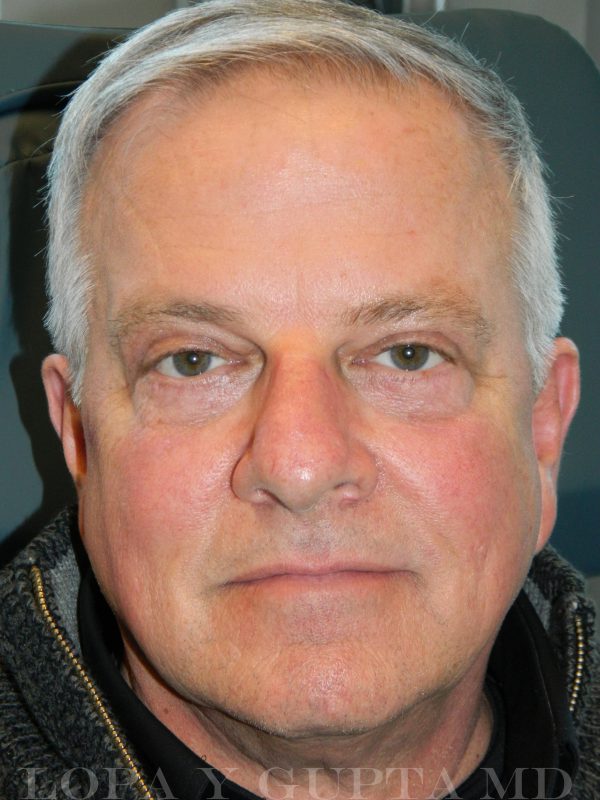 For years I was conscious of my eyes having heavy lids and sagging bags. Years ago, I came to know that Dr. Gupta offered a laser procedure which was at the forefront of medical treatments and what I would consider having done. Years later, my work would take me into Westchester and while unpacking, I was inspired to finally set up a consultation with Dr. Gupta. The day I walked into the office I was impressed. Ann who runs the office, very friendly and made me feel as if we had known each other for years, met me. My consultation with Dr. Gupta was positive and thorough and any question I had was answered in great detail. I left that day to think about what I just experienced and I was convinced that Dr. Gupta, her staff had my trust. I committed to having couple procedures and have never been happier with the outcome. More than the medical portion, which Dr. Gupta handled as a gifted artisan, there is Emilia who is her passionate assistant and Ann who holds it all together as a calming and reassuring voice. Overall my experience was extremely positive. Dr. Gupta and her staff have professionalism second to none and an approach of treating each individual with compassion and knowledge that surpasses all others.
T.W. O'B's transformation– Please click on any image to enlarge, see details and slideshow
Barbara H.'s Dr. Gupta story
My name is Barbara and I want to share how cosmetic procedures with Dr. Gupta changed my life.
For years, I tried other treatments to tighten and lift including make-up, cosmetics, and creams for dark circles and puffiness. Nothing worked.
Finally, a friend of mine whose daughter is an established patient of Dr. Gupta, encouraged me to seek a consultation with her. The rest is history.
We began slowly with injections to lift and sculpt my face which I was very happy with. Once my face was improved, my eyes and neck bothered me even more. Finally, I had an eyelift for my bags and heavy lids and a chin tuck and liposuction for my sagging neck. To my surprise, I did not experience any discomfort nor problems with healing. I love my new eyes and neck! I am getting lots of compliments.
So what did I gain from doing these procedures? "A new me." A boost in my self-esteem, looking years younger, less makeup and cover-up. Most of all, feeling good about myself.
Barbara's transformation over the past 2 1/2 years– Please click on any image to enlarge, see details and slideshow